Each classroom has two to three full time teachers and occasional help from part time staff members. Your child's room will have its own schedule, with free play, breakfast, circle time, activity time, outside time, lunch, teeth brushing, rest time, snack time, music/movement, and other elements. Your child's classroom schedule will be available upon request and/ or will be available outside of the classroom.
Generally, Sprouts, Ladybugs, and Tiny Turtles will be in the Sprout room from 6:30 to 7:30 AM, then again in the afternoon from 5 to 6 PM. The other children are all together in the Panda Bear room at the start of each day. At approximately 7:45 AM, they go to their respective classrooms. They then come together again for the close of the day, between 5:00PM and 5:30PM in the Panda Bear room.
Transition into the Center is based on each child and family. The Program Director works with each new family to determine a transition schedule that meets the child's needs. We know that transitions can be difficult for children as well as adults. When a family has had a difficult transition in the morning, we encourage them to call later to see how their child is managing. We are here to help with this process.
Each classroom features learning centers where we carry out appropriate activities. These include such areas as art, science, math, dramatic play, blocks, and books. We encourage children to make choices and play with others while participating in these centers. Our teachers act as facilitators as they extend the children's play and promote learning by observing, asking questions, and other interaction.
All children need fresh air, no matter the season. Unless weather conditions are extreme, we go outside every day. In the winter, we will go out as long as the temperature or wind chill is 20 degrees Fahrenheit or above. It is our policy that children who are well enough to come to the Center, are well enough to go outdoors. We ask that you please be sure your child is dressed appropriately for the weather and bring extra clothes for the unpredictable weather.
We are very fortunate to offer five different playgrounds for the children here at the Center. Our toddler playground is conveniently located next to their classroom, and has many stimulating toys and structures for their enjoyment. The preschool and kindergarten classrooms all use the other four playgrounds. The "Ball Side" has a climbing structure, a wide-open space for large group activities and running, and various balls and other equipment. The "Bike Side" has a great bicycle track, with several tricycles to ride, as well as a train and car structure. The "Ship Side" features our great ship climbing structure with slide, tire swings, sand box, and more. The "Train Side" has a gigantic train structure, sand box, slide, swings, and monkey bars. Water fountains are available on the Train Side.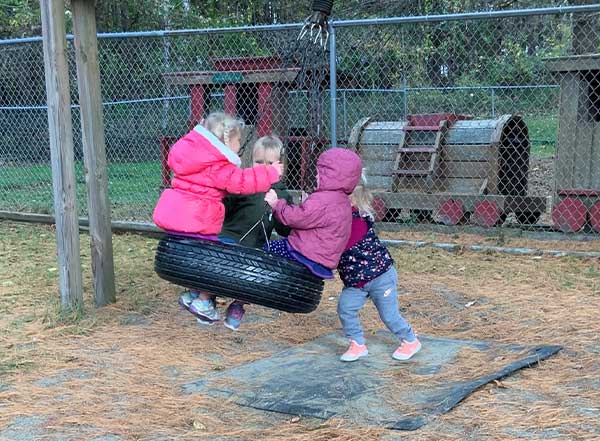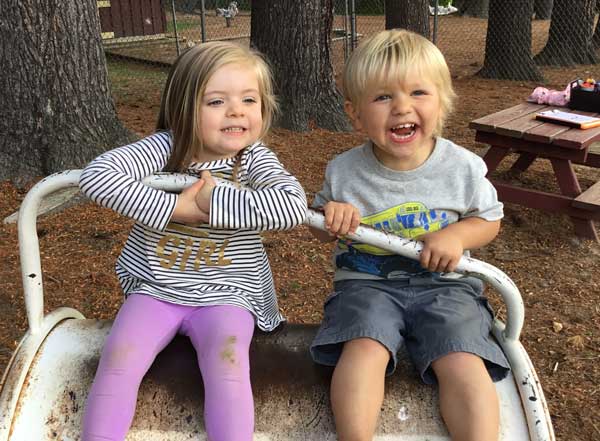 Moving from one classroom to another
The decision to move a child from one age group to the next is also made with care. Any move is based first and foremost on the needs of the child, developmental criteria, and the occupancy of the classrooms. Teachers, parents, and the Program Director may initiate a class change. The Program Director will notify the teachers when and where a child is to move. We try to plan a transitional period of at least two weeks before the move takes place. We also encourage you to get in touch with the new teachers to learn more about your child's new room.